It was rainy and I didn't arrive until later in the day, so this will be a short post.
After parking my car where I'd be staying the night, I walked to the train. Pretty cool train station..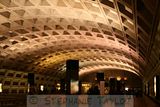 This was beside the National Museum of American History I believe.
And "The Mall". I don't really like that it's called that..it seems odd to me.