Heading to Vegas today, I decided to stop by the Mojave Desert, and if I had time Death Valley. Though I really didn't have time for Death Valley, I did fit it in anyway. I'll have to return because there was more to do there than I had thought.
After stopping by the information center, and passing this old post office, I headed into the park.
Most of the roads were for four wheel drive vehicles with a high clearance. Unfortunately I was driving no such vehicle, so I couldn't see much of the park. I did drive down a dirt road to the Kelso Dunes.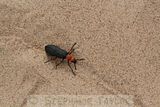 After driving around and realizing I wouldn't be able to see much anyway, I went to Death Valley. I arrived so late in the day that nobody was around to show my national park pass to. Oh well! It really was a great time to arrive since the sun was about to head down.