We went to the University of Fairbanks Museum of the North today. It was $10 to get in, and $5 for the movie "Winter", which we decided to see, since it was starting soon after we arrived. They had another show called "Aurora" which was free though, so we decided to check that out later.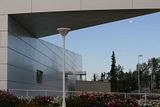 A picture of the Museum driving towards it.
It was interesting to hear from the people of Fairbanks, their views of Alaskan winter. Some people said they actually preferred the winter over the summer. And apparently the dry air makes it feel less cold than in wet climates.
It gets so cold that they have to plug their cars in when they go out, so parking lots have what look like parking meters set up, free to use while they shop. Also, we saw the recent climate changes, and heard a lot about that as well.
They play weird games in the winter, and have a lot of competitions to keep active, since having very little daylight can cause mental issues. They play bowling by pushing people in tubes into the pins..better than another area where I hear they send frozen chickens in place of the bowling ball. They also do a lot of cross-country skiing.
After the show, we finished looking around the museum.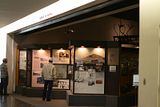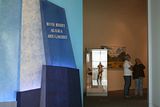 I found the
Michio Hoshino
display extremely interesting. I loved his words and photographs. Just to give you an idea, he wrote,
"We all die and go back to nature eventually. When we are in the city we tend to forget - we don't really think about it. But nature reminds us...It's not a sad thing. It gives us energy. Nature has a kind of power to encourage you to live because Nature teaches - you are going to die."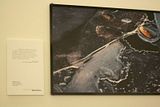 Unfortunately I didn't really take many pictures in the museum, so this is the only one I have of his work. It's easy to find online however. I was very impressed.
And then there's Otto, a 1250lb Brown Bear. You can see how big he is compared to that man to the right.
And a few more pieces.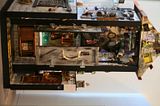 We went outside for a picnic style lunch before watching "Aurora". The show was alright, but I almost fell asleep numerous times. After the show, we went to the Georgeson Botanical Gardens, which had a $2 entry fee, just to see flowers.. It was pretty, and it was beautiful out. We took pictures of the flowers, and sat on the benches for a few minutes to relax.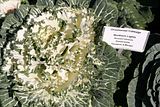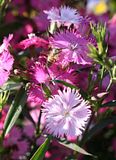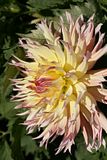 I few of them reminded me of hair.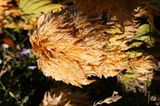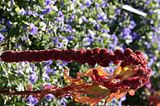 I was going to head downtown to see about the ice museum, but as we were driving down College Rd, we came across Creamers Dairy, which I'd seen as a place to check out online.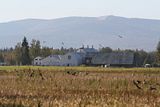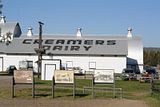 They had a bird sanctuary, some trails, and a small visitor's center. We decided to take a short walk, since it was nice out, and it was free. We also saw signs to the Bird Observatory, so we decided we'd hike towards that. We passed by 3 serious photographers on the way.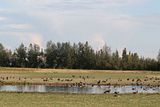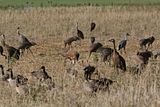 When we followed the trail to the end, we were confused for a second. It looked like a housing development area. If we hadn't seen some people go into this small brown place with the door open, we would never have found it. They didn't have any signs. Later I thought that maybe that was the back door entrance, and they may have had signs in the front. We didn't go out to the front, and didn't check out the gift shop at all.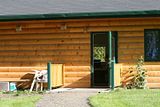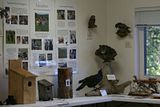 After the walk back, we decided to gas the car up to be returned tomorrow, and call it a day.