Our next set of tours were both right down the street from our hotel, so we walked down to the Riverboat Discovery Sternwheeler.
You only see two tour buses in this picture, but shortly after this photo was taken, the whole parking lot was filled with buses. This is apparently a huge attraction for tourists.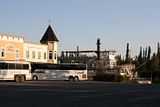 Here is a picture of the original Discovery Sternwheeler, as well as the 2nd "Discovery II". We were on III, which can be seen in the first two photo's.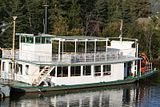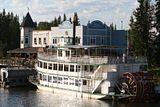 We got good seats right outside on the 3rd deck in the front.
When we turned around to head down the river, the first thing they did was show a bush plane demonstration. It took off and landed twice, on both sides of the sternwheeler.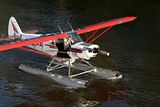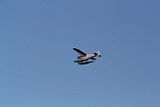 We were told about the houses and history of Fairbanks, and I took pictures of odd homes I saw. Everyone seemed to have trampolines for some reason too.
We continued until we came to a dog sled kennel, owned by Dave Munson. His late wife, Susan Butcher was an Itidarod winner, and had died last year unfortunately. She was the one who usually gave this portion of the tour.
He demonstrated attaching the dogs and doing a loop with them, as we had seen before. He used an ATV without an engine as his summer sled. He let them loose when they were done, and they all ran into the water. It was nice to see that they had play time. He also showed a fun toy on their front lawn which they could be hooked to, and it was something like a merry-go-round for dogs. They ran a circle, and then could jump up onto a platform and go for a ride.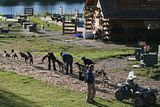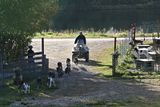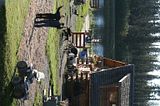 We continued on. When we came up to the village, we stopped briefly as we watched them let the reindeer out onto the bank to graze. Instead of going to the village gate, we went slightly beyond that to see a fish wheel, and where the Chena and Tanana Rivers met. You could see where they met, because the water colors were different. The Chena is a clear river, but the Tanana is glaciated, so the water is silky looking and grayish-white. It was very interesting to see the mix of waters.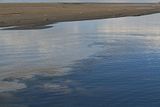 We back-tracked slightly and stopped in front of the Chena Indian Village for a quick demonstration on cleaning a fish. When that was done, we exited the sternwheeler, and were split into 4 groups as we were shown around to different area's.
The first area we were brought to was where the reindeers were kept. They told us about reindeers and hunting. There were also shelters made from different materials around us, which they went over. The girl in the picture below was demonstrating how to call moose. "Here moosey moosey moosey."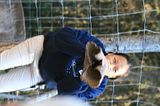 We moved on to the sled dogs (now the 3rd time we were told about them, and then the trappers. On the way to the trappers though, we walked by very large vegetables, including this cabbage. Notice in the background someone's leg for a comparison. Since Alaska has so much sunlight in the summer, the vegetation grow quite large.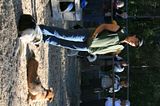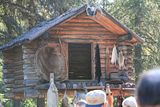 Last we were shown some garments made and worn by the natives.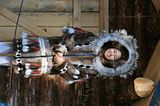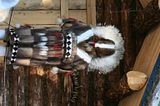 We were given 15-20 minutes to look around on our own after that. We were lucky to have another beautiful day because the forested area was a little chilly, but when we got back out to the sternwheeler, it was very nice again. Once we loaded, and started back, they told us they were giving free samples of smoked salmon. Yum.
We had an hour to wait for our next tour, when we arrived back at the gift shop area. This tour was put on by the same company, and was called the "El Dorado Gold Mine Tour".
When it was finally time, we headed to the El Dorado Shuttle bus. The bus driver was very lively, and had a funny laugh (he found almost everything amusing), but unfortunately the ride was long with numerous other stops to pick up other people. There may have been a total of 6 stops, and ours was the first pickup point. People were getting upset by the length of time, or maybe by the bus driver himself. I found him entertaining though, and he had a lot to say about the area, since he worked at a mine and lived there himself. He even went into great detail about new constructions and buildings we passed by. Along the way, we also spotted a section of the Alaskan Pipeline.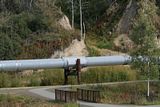 When we finally reached our destination, the Gold Mine, we got our boarding passes, and boarded immediately. A man near the front of the train was entertaining people by playing the guitar and singing. We couldn't see him because we were too far back, but they provided people with TV monitors so that you could see what was going on. He broke out the fiddle after playing some Johnny Cash. He played an Alaska song to the tune of a popular song, called "I've fished everywhere," instead of "I've been everywhere" I believe.
When the small train finally had loaded, we were told we'd be making a few stops to look at things along the way. The first stop, was in a permafrost tunnel. A man there told us about mining and the types of rock and things mined.
We stopped a few more times to hear about the history, and different methods of the mining.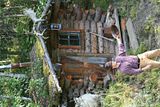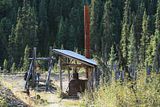 We finally arrived at the El Dorado Gift Shop/Mining area, where we were brought over to an area to watch them show us how it's done. It was a husband and wife who taught us about the modern way of digging for gold, and had a crane drop dirt and rock into a machine at the same time they released water into it.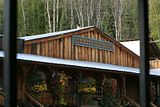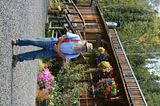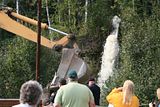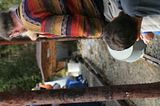 4 people stayed in a little pathway where these materials joined together and rushed by their feet. They panned for the gold, and the lady said she found a small nugget, so she was happy. My mother thought she had planted it, but who knows..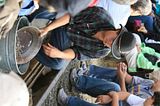 When they were done with their demonstration, they sent us through a small tunnel to the gold panning area. They handed us each a small bag of dirt and we found our way to a seat where we could start panning. They guaranteed if we didn't find at least 8 flakes, that they'd give us a new bag. I found $16 worth, according to their gold scale, and they cleaned my gold for me, which was nice. It was pretty fun, and I'd like to do it again some time.
We went through the gift shop, where they showed us a $25,000 lump of gold, and we were able to pick it up. It was heavier than it looked.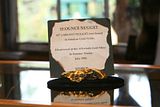 They also had complimentary cookies (4 kinds), and beverages. We filled our water bottles, after asking, with the wonderful "Fox" spring water, before leaving. I had already helped myself to at least 8 cups..it was very refreshing, and was the best water I'd had in a long time.
They gave plenty of time to wander around the gift shop, and then we were boarded back onto the train. We were entertained with the fiddle again and "The Devil Went Down to Georgia". It was a short train ride back, but a long shuttle ride back to our hotel.