The shuttle for the Denali Jet Boat Adventure didn't arrive until around 9AM at the Creekside Cafe. The bus drive took about 15 minutes, and the driver told us about the area, and the trip we were going on along the way.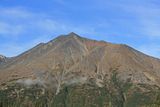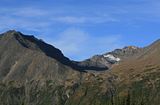 When we arrived, we were introduced to the "Doyle's", their last names. One of them just drove the jet-boat, the other was a trapper, and would talk about that with us in the "trapper's cabin" upon arriving at their camp.
The jet-boat ride was okay, but nothing spectacular. He said there wasn't much water in the Nenana river, so they couldn't stop or slow down, and would be skimming along the top pretty much, but it was safe.
Along the way, we spotted wildlife, two caribou, which ran alongside the river and kept up with us for awhile. We were told they didn't generally run away, so they must be "new". We couldn't stop for pictures, but since they were running alongside us, it would have been pointless to anyway.
At the camp, we were told about trapping, and we were taught how to pan for gold.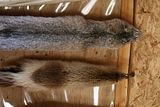 I only found 5 flakes, with the help of the trapper, who came over to lend a hand. We were able to keep our small amount of gold in little baggies, then we headed back to the boat, where we took the boat back to the shuttle.
Upon arriving at the WAC, we waited for our next tour, which was the Covered Wagon Adventure. It took about 30 minutes to get there since it was in Healy, near the northern part of Denali Park.
We found out that our guide was from Maine, so we chatted with him about Maine as we rode in the wagon to the Pavilion for the free meal they served.
It was the most memorable meal of the trip for me, and it was all delicious. The blueberry cobbler and Merlot were great.
On the way back, our guide stopped the wagon to show us a few things, and to talk a bit about the area.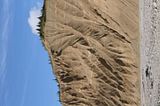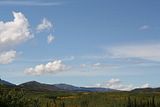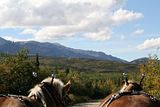 When the tour was over, we were shuttled to the train station, where we boarded the McKinley Explorer "Knik". We had the same guide, Bambi, and the same wait staff. This rail car had stairs in the back instead of the front. This portion of the train ride wasn't that exciting. Leaving Denali I took a few pictures.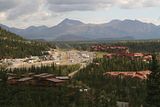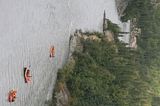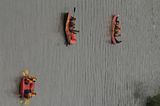 We went by a few towns, like Nenana, but other than that, it was mostly tundra.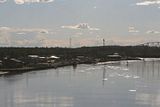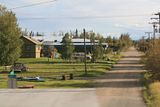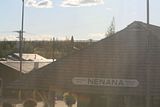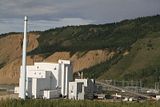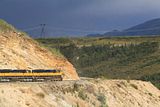 Our train arrived in Fairbanks.