This was our only full day at Denali. This is such an immense park, and it just seems to draw you in. The day we left, I had already begun to miss it, and I hadn't even spent much time there. We were again, very lucky, and were able to see Mt McKinley.
I'll start off with a photo of one of the many buses that are allowed into the park. Beyond a certain point, vehicles aren't allowed, only buses and perhaps photographers/lotto winners (I hear).
Not a great picture, but I didn't really take many pictures in Denali. Not nearly as many as I would have liked to. The problem was, being on the bus, we only made a few stops, and it was hard to set up for any shot with only a small bit of window to poke a camera out of..
The next time I go to Denali, yes, I hope there is a next time, I will be doing some major hiking.
Now, to stay in format with my first day post, just for the heck of it, I'll post the pictures I took of Denali (Mt McKinley) while in the park.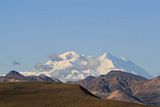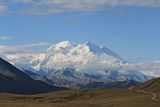 Again, I didn't get to take many pictures in the park, since the opportunities didn't present themselves, and it's really hard to take pictures in a bus when people say they're cold. I don't like taking pictures through glass.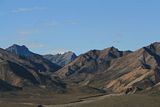 We did spot some wildlife, and were able to stop for those. We weren't allowed off the bus, so these are the best shots I could get. Also, we went later in the day, probably leaving around 8:30AM, and didn't see much wildlife. Apparently the much earlier departures get all of the wildlife! Next time I'll know..
People were saying they saw things that I couldn't see. These people had binoculars, I didn't. My camera can work as a pair of short range binoculars, but since they're just 70-200mm, they can't zoom out too far. Here are a few shots of caribou. These were WAY out there.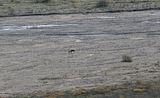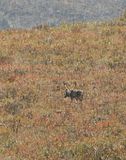 And there were a few bear sightings, though one of them was more of a speck sighting. The only viewable bear on the bus, was this one.
Alas, we were nearing the end of the bus ride, after having gone out to Fish Creek Turnaround. We had a few moments of rain, and a few moments of hail, but they only lasted a few minutes each, and the sun was back out. We had all given up hope on seeing any more wildlife, and were all disappointed having not seen that much.
We saw some vehicles stopped ahead, and then we realized there were moose right alongside the road. Everyone went "SHHHHHHHHHH!" at the same time, which sent one moose running. I found that rather humorous myself. We inched our way forward and spotted another one, just taking it easy and chewing on some leaves. It was the closest encounter we'd had all day, so even though it was just a moose..yeah, we get these in Maine, big deal haha, it was still a wildlife sighting, so we left the bus tour feeling somewhat better.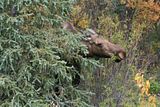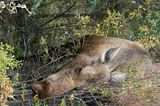 Denali is definitely a place to explore on foot, and I really would love to go back. The shuttle bus is great for people to get out there, but to just stay on the bus the whole trip and only get off for a few short breaks isn't as exciting.
Upon returning to the start of the park, our bus driver told us a dog sled demonstration would be starting soon, but she didn't want everyone to get off at the stop to go see it, because there may not be enough room. Not that many people exited at the stop, so we decided we'd go check it out.
I hadn't realized how into running these dogs were until I saw this demonstration. All of the dogs were going crazy, and standing on their dog houses, trying to be the chosen one.
I took a liking to this one, named Aurora, though Aurora wasn't chosen.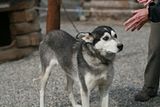 While bringing the dogs they select to run, to be hooked up, they carry them with their front paws off of the ground. They do this so they can keep control of the dogs, because the dogs get very excited and will lead them to be harnessed, rather than the other way around.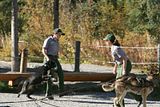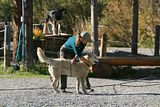 And once they're all hooked up, they're ready to go. When the break is released, they're off.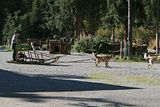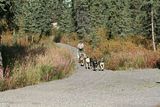 When the demonstration was over, we headed over to the Visitor's Access Center on the free shuttle. We were both pretty hungry, since we stayed at a hostel, so didn't have a real breakfast, or lunch. I would have bought a sandwich at the Wilderness Access Center (WAC) before we left, (not to be confused with the Visitor's Access Center), but the everyday normal sandwiches were over $10. Yep, no thanks.
We ate at the Morino Grill, and I had an "Aurora Burger" with fries for $9. We still had time to waste after that, so we went to the gift shop, and then went down to the Denali Train Depot. They had some information to look at down there, so it was pretty interesting. While down there, a train came in, so I decided to take a picture of that, before finally being picked up by the shuttle to the WAC, and then yet another shuttle to the hostel. Lot's of shuttles.