I had driven to Bryce Canyon last night so that I could wake up to the sunrise here. It was sort of spooky compared to other places I'd slept. I heard strange noises, and then in the morning I had jumped into my backseat to sort through some clothes for the day, and I saw something out of the corner of my eye. Something was moving behind me and without thinking, I jumped and screamed only to realize two men were walking by. I felt sort of silly, but they didn't even seem to notice me, nor did anything indicate that they heard me scream.
After this interesting experience, I got my stuff together and headed out to get some pictures. Those two men said hi and smirked when I arrived with my camera. I think they did hear me scream hehe.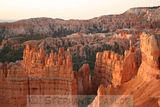 After the sun was up, I drove around looking at the rest of the park.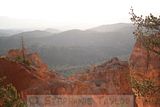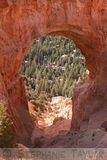 I had planned to make it to Capitol Reef National Park today as well, so I started driving in the general direction, only to stop just outside of Bryce Canyon at "Mossy Cave". This ended up being a very short hike to a not very mossy cave, and a waterfall.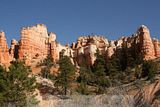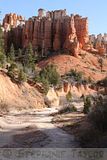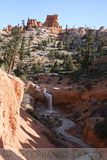 After the lovely hike, I headed back out. Everywhere I went, I was confused to see the sprinklers going off to not water, but ice the surrounding areas. I'd like someone to explain this to me!
And continue I did..even though my GPS decided to take me out to the middle of nowhere. I think Sean Connery was looking to kill me..(I have Sean Connery's voice in my GPS, I'm not crazy I swear!). What appeared as a scenic drive, ended up turning into a dirt road, and then into snow.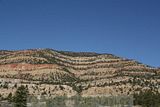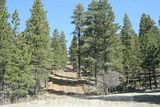 Note the snow in the road above. I'm from Maine, I drive through snow. Driving through snow up in the middle of nowhere, on a dirt road, alone, with no cell service is NOT a good idea. But I did it anyway.
As I found myself stuck in the snow, I tried desperately to free myself by doing the old go forward and go back trick. I guess I accidentally gunned it too hard in my panic, because I soon saw smoke coming from my engine. Crap. I quickly shut off my car, popped the hood and jumped out to take a look. The anti-freeze was erupting everywhere so I rushed to my trunk, spotted my anti-freeze, and refilled it. I started my car again to make sure it was okay and the engine had cooled down..all better. Phew!
So to get back to the original problem, I decided to take a look under my car to see the damage. Ice was pretty well packed underneath it, how frustrating. I chipped away at the ice and tried to maneuver for about 3 hours. During this time I was visited by a butterfly, thought to myself that it was peaceful up there and rather nice, and was glad it was early in the day and warm out! When the afternoon passed and it started getting into late afternoon, very early evening, I decided it'd be a good idea to just walk back down the road and try to find help.
I had only been walking for a few minutes when I heard a beep. The beeping was my voice-mail which meant that I had service! I stopped walking so that I wouldn't lose the reception which I was lucky enough to have found at that point, and I attempted to check my messages. Two seconds later I thought that was a stupid idea, so I hung up and called 911. It took me about half an hour to figure out which road I was on so that they could send someone up after me, and then an hour of walking further down the road, I finally saw the police. The guy hooked up my car and pulled me out with only a small amount of damage to the bottom. A plastic guard of some sort which I later had fixed at a shop in town.
So yeah..there's a story behind that snow in the road..
Now. Back on the road I went, happy that the sun was still out and I just might make it to Capitol Reef at the perfect time for photos. Why does this keep happening to me? My timing couldn't be better. Here are some pictures along the way first!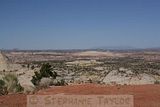 And finally, Capitol Reef and possibly the surrounding area.