I hope I don't bore anyone with these pictures! Last night I made it into Montana, so when the sun started to rise, I had to continue my trip through this incredibly large state. I took quite a few pictures before I even arrived at Yellowstone in Wyoming. The sky and the clouds left me quite impressed.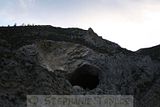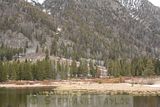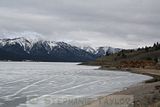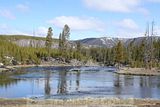 When I finally did reach the West Entrance of Yellowstone, I was told some of the roads in the park weren't open due to snow, but the major points of interest were still viewable. I would go back to see the same thing twice and since I didn't even see all of the park, I will definitely return!
Just after driving a mile or so in the park, I noticed the wildlife. The Bison were EVERYWHERE. At one point I had to stop driving because they were walking slowly down the road. This first picture shows them off to the side, but they were blocking the whole right side of the road at first.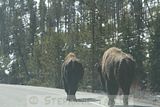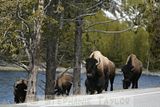 I know they're very dangerous, but these animals amaze me! The first time I saw one face to face was in Alaska at
Alaska Wildlife Conservation Center
. Luckily there was a fence between us, but I couldn't help but feel a little frightened. If you click on the link you can scroll down to the "Wood Bison" and my little write up about him. Animals are so cool.
Next I headed south and noticed quite a bit of steam from hot springs. I stopped at the first place I could find, but it was closed.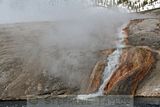 I went all the way to Old Faithful after this. I was lucky to arrive within maybe five minutes of it going off. There were many people that had been waiting for quite some time, and others took one look at it and moved on as if they were disappointed at it. Others noted how they were missing out after they had left. Nobody seemed to know that you had to wait to watch it erupt.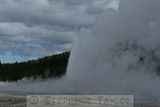 I kept on driving around the circle until I could barely keep my eyes open. Waking up so early in the morning to start the day always made me crash for a short nap by mid to late morning.
When I woke up I was still sort of dazed, but continued toward Mud Volcano and the Sulphur Caldron. The first picture was taken around there. I didn't actually see the Mud Volcano. There were Bison around, which sort of frightened me, and it also didn't smell very good (of course it wouldn't). The next picture is I believe the Upper Falls near Artist Point.
These next pictures were taken at Norris Geyser Basin. These each have their own name, but I didn't do a very good job at noting them down. I would like to go back here on my next visit because I actually ran out of battery for my camera and had to keep taking the battery out and sticking it back in just for one picture to be taken.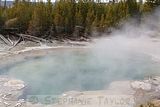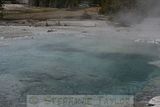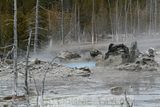 I decided to head north to Mammoth Hot Springs after that, but along the way I noticed quite a few vehicles parked on the side of the road. I was confused at first until I saw something move in the snow. It was a grizzly bear digging, and it's head kept going beneath the snow line in the hole it had made. Soon we realized it also had possibly porcupine quills in it's foot.
Quite a few professional photographers were out for this, so I didn't concentrate on getting my tripod out and setting up that good of a shot.
Mammoth Hot Springs was pretty nice, and the lighting was very good. I hiked around for awhile taking pictures until I decided to figure out what I was doing about sleeping and bathing. I had assumed I'd get a shower here since it was a big National Park. The Grand Canyon had pay per use showers, but I guess they may be alone in that. I drove down to the campground and it was full so I decided to just wash up in the bathroom and keep driving toward the Dakota's.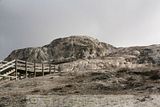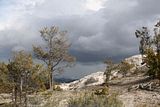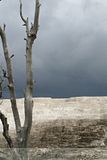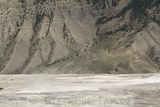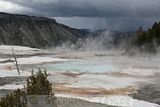 On my way out of the park I saw more wildlife. I believe these are all Elk.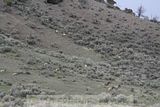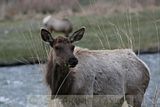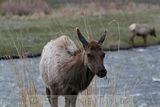 I'm ending this post the way I began it. These are all pictures pretty much of the sky while I was driving. I guess "The Big Sky State" suits Montana quite well. Very beautiful!