Though it looked like rain at the start of the day, the weather soon cleared and we had nice blue skies.
We walked to the airport to pick up our next rental car so that we could drive down to Girdwood and travel at our own pace for the remainder of the vacation. It was a long walk, longer than I had thought after viewing the map. We made it, at last, and headed out of Anchorage, and towards Girdwood.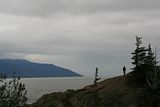 Our first tour was to view the Portage Glacier. We were there way early for our 1:30pm cruise, so we asked if we could switch it to the noon which was in 10 minutes. They said no problem, because the boat wasn't full, and we left immediately for the glacier.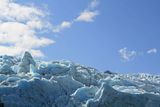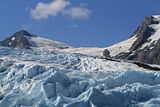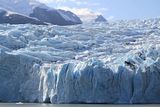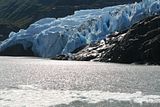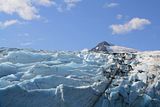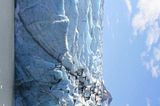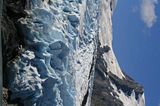 When it was over, it was only 1PM, and the Alaska Wildlife Conservation Center entrance was very close to Portage Glacier, and we had to head back to the Highway anyway. With the toursaver, it'd be $7.50 for both of us to see the animals there, so I decided to call the Talkeetna Air Taxi people to see if the tour was still scheduled for 7:30PM. When I called though, they said the weather was iffy, and they said it'd probably be best to reschedule, even though there would be no guarantee on that day either. Then she mentioned the fact that they hadn't been doing glacier landings for a few weeks due to the conditions up there, so that sealed the deal. We canceled the helicopter tour altogether, which was sad, because it was something we both really looked forward to.
So now we went through the gate of the Conservation Center, and drove to the first animal, which was moose. National Geographic people were there, and there was also a huge puddle of water between the road and the fence to better view the animals. I thought twice, and then decided to try to find the most shallow way to get near the moose, and I took some pictures and moved on. My mother was disappointed that National Geographic took footage of animals like that, having assumed they only took footage in the wild.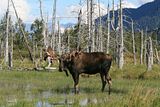 We headed around for a bit, and ended up taking a few pictures of Caribou and Musk Oxen, but ended up at the bears.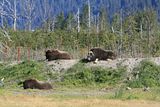 I sat to write in my journal while we waited for them to come into view. When I had just begun, an ATV came up to the fence, and a guy threw food into the bears and called them, so I went back out and prepared for the bears. While out there, my mother pointed out a coyote on the other side of the water, so I took a picture as well as I could, and then watched as the bears came for their food.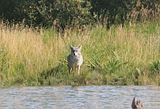 We were lucky to get there right when they had been fed, because there wasn't a huge crowd yet. The crowd came shortly as tour bus after tour bus came through the place.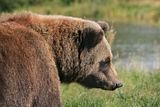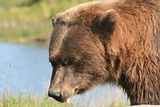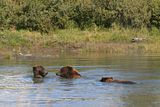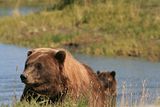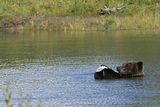 After we had enough of the bear, we drove down further where I saw a Wood Bison alone near a fence. I walked up to the fence but kept my distance, hoping it'd move away from the fence so I could get up close for a shot. I didn't have to wait too long. It came close again so I had to back up, but I had taken a few shots. I waited for it to back up again, and then took more and decided to leave. I felt like I was taunting it almost just by being there and having the fence between us.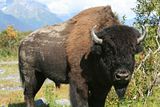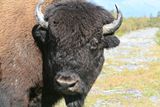 Isn't he cool?
We went back to see if the coyote was anywhere to be seen because I wanted a better picture of that, and it was beautiful. We couldn't find it, but while there, a lady showed us the map of the place, and said there were also Black Bear and I saw the word "Lynx" so I decided to go check that out. The Black Bears weren't out, and the other bears over there were far away and sleeping. I couldn't even see where the Lynx was, so we decided it was time to head out. It had started to crowd from the tour buses anyway, so we stopped by the gift shop, just to look around real quick, and then started back up to Anchorage.
It was a beautiful drive back, and I was looking forward to driving it again the next day.
We walked around Anchorage, checked out some stores, and had some food when we got back. Here are the only pictures I took of the city.