I'm trying to play catch up in my journal, so this one is a few days late.
I had my first photo showing at the Munjoy Hill Festival on Sunday. The original date was Saturday the 15th, but it rained, so it was rescheduled for Sunday. I could go into a story about how hard it was to prepare for this show, and how a lot of things kept going wrong for me, but I won't go into it at all.
I had a great time ultimately. Being out in the sun all day, and having people tell you they like your work, and having some people care enough about it to buy it, is just a wonderful feeling. I had friends over for dinner immediately afterwards, and I wouldn't shut up about how great a day it was!
Here are some pictures of my display. I need a lot of work on it, but it was my first time out, so I forgive myself. Half of it was thrown together at the last minute too..oops. :)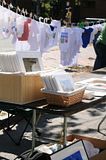 Pictures of the festival..I didn't wander far from my table, so these pictures were all in the same area. As a matter of fact, I was set up across the street from the dunk tank..nerve wrecking!