Since we had planned on Deep Sea Fishing today, the day was sporadically planned. We still headed to Seward.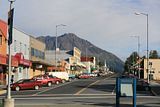 First we went to the Alaska SeaLife Center, where I enjoyed watching the birds, octopus, sea lions, and seals.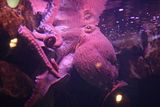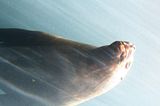 And this isn't a seagull, in case you thought it may be. It's a Red-Legged Kittiwake. There's an interesting story
here
because the very first Kittiwake Chick born captive, was born here.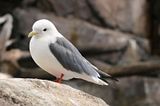 I just loved the puffin (2nd and 3rd pictures), he was so cute, and kept looking like he wanted to jump on my shoulder or something. The lady telling us about him had to hold him back a little with a clipboard. She put it in front of him so he wouldn't come visit. She said he was very personable.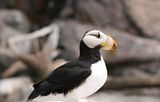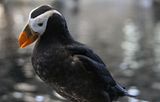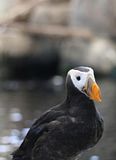 I also touched a star fish, and something else which was weird and sticky and pulled away after I pulled away.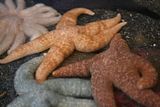 When that was done, we went over to the Ididaride Dog Sled Tour, which we had planned on doing the day before. We were an hour and a half early, so we had lunch and caught up with journal writing.
When the tour finally started, we were told about the Iditarod and the dogs for a bit, then taken to the summer dog sled ride. We had the middle section, of 3 sections. Each "buggy" carried 6 people, plus the dog musher on the back. They pulled us for a mile through trees. It was really quite humorous to watch them because they weren't dog sled dogs, they were still in training. They weren't puppies, but they weren't big. They were all very excited to be running. The only two who were older (2 years and 3 years) were the lead dogs, which are the most important dogs, since they are the ones the others follow. If they run, everyone runs, if they stop, everyone stops, and also quite importantly, if they go right, they all go right, etc.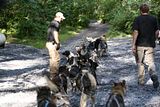 We had been split into two groups to go on these rides, so when we got to a mile point, and we'd stopped, the other group met up with us. We got off the "summer dog sleds" for a little while, and were allowed to pet the dogs. They were all slobbering, so I decided against it, and took pictures instead.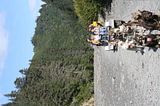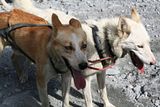 They were getting ready to go again and started jumping and barking excitedely, so the guy said we should get back on. We all got back on, and he released the break. While riding back, he released the break all of the way for a short amount of time so that we could see some speed through the forest. It was quite fun..but I imagine they go much faster when racing, and they'd have a lot less weight to pull too.
After going back the mile to the kennels, we were brought through a wall to another part of the dog sled tour..none of this was inside a building, it was more like being brought through a castle gate. On the other side were the puppies and young dogs, as well as a seating area to the right. We were told to follow the guy past the puppies (which saddened everyone), and we sat down to watch a small film. It was a very cheesy video about the Itidarod.
Then we were introduced to "Tread", who was a dog sled champion, but now retired. He didn't look thrilled to be there, and everyone laughing at him made him look even more sad. Oh well..after spending a bit of time there talking with that guy about Tread, and the winning sled on the stage, we went over to see the puppies. They were only 8 days old and hadn't even opened their eyes yet. They were very cute..I took a picture of my mother with one, though she didn't like the picture. Luckily I had taken another one which didn't show her face, so I can share it, heh.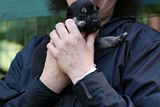 After the little puppies, we saw the more grown pups, and were able to go into the fenced in area with them.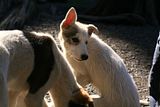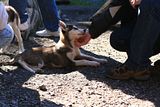 When the tour was over, we were very close to Exit Glacier, a glacier that you can hike up to for free, and it isn't a long hike, so we went there. We walked up to the overlook because the bottom was unreachable due to flooding. I guess people were able to touch the glacier before, but it's receded and it's not safe to go that close to it anymore.
It was a nice view of it anyway, and we weren't too far from it. It was extremely windy when we reached the top though, and cold, so I had to put on my jacket. At least we didn't get stuck in any rain though.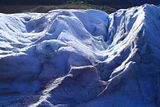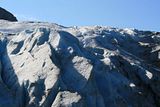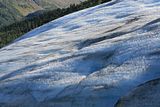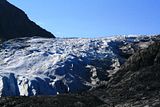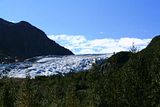 The rain started on the way back to Anchorage. That's where the photo adventure ends though..then we did normal things that aren't worth taking pictures of, like eating and doing last minute tourist shopping. This was to be our last night in Alaska..very sad.