This is around the time you get sad, because you know your vacation is coming to an end, but you don't want it to. We had decided on the Ididaride Dog Sled Tour, and a 2-Hour Scenic Float Trip today. We'd seen enough dog sled demonstrations, but this one offered you a ride on one, so we thought that'd be fun.
We started to head to Sterling, which I thought was 5 miles away.. we drove for awhile though, and didn't see anything, except we did pass a car that was stopped in the middle of the road practically, looking at a bear. After driving for awhile, I thought maybe I'd been going the wrong way, because I hadn't hit Sterling. We drove back to a store and I asked a guy there, who said it was 25 miles away. The tour started soon, so I called and said I was lost. Then I find out that the Sterling tours ended 2 weeks ago, now they only have the dog sled tours in Seward still going on. I cancelled the reservation, and we decided we'd drive back down the road to see the bear again.
We parked about half a mile away from the bear (where it was safe to park), and walked alongside the road until we got to the opening. The bear was still there, so we took some pictures quickly, and then left carefully. It was still far from the road, but we didn't want to take any chances.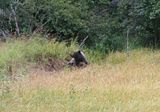 When we were done viewing the bear, we still had over an hour until our next tour, so we went back to the Sunrise Inn for a bit.
We left a little early again, thinking they'd probably have a gift shop to browse around while waiting (as everyone seemed to have). We get there and the sign on the door says "on shuttle, will be back soon". Since we were early, we didn't care. We walked over to a place which had gold panning equipment outside, and then a little store next to it.
We went in and talked to the owner of the store for awhile. He told us how the area was getting over-populated with bear, and how he was in his store the other day when he heard his freezer out back smashing into the wall. He went out to look and didn't see anything, it was dark, so he came back in, and then he realized there was a bear on the side of the store, knocking it a little.
He also said there were more animals that used to live there, but the bears ate most of them. There are a lot of fish around the Kenai Peninsula, so the bear eat those a lot. He said he fishes near them sometimes, but he has never had any problems. He carries a gun with him, and he would defend himself if he had to. Once he almost had an issue, but the bear backed down..
It's always more interesting to me to hear these stories from the locals themselves, rather than hear facts about the area from tour guides, most who are only seasonal workers. It was time for our tour, so we left the store and went back to the place to check in. When we talked with that guy though, he said he wasn't doing anymore rafting tours that year and it must be another place, but there were a lot nearby.
I went back to the car and looked at the paperwork and found the milepost to look for. We found it, and were right on time luckily. I was glad to have stopped at the wrong place though, only to have spoken with the store owner, and to buy a few things from him.
The 2 hour float would take us down a part of the Upper Kenai River, known for it's fishing. The tour was by Alaskan Wildland Adventures, for $49 a piece, and the tour guide said it was her last run of the season. She was happy because it was just the two of us, and that made it easier on her to paddle around. Also, she didn't have to do some other job, which seemed more difficult and not as fun haha.
The float was very peaceful, and became dull near the end. I guess being young, I like more excitement. The highlight of the trip, was seeing a bald eagle up pretty close. It flew by us and landed in a tree, and I was able to take pictures of it that came out pretty well for being in a raft.
After the eagle, we started seeing a lot of fisherman.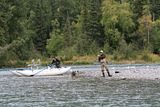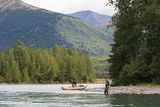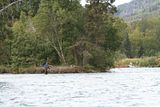 Apparently there would be more a few weeks later, when the Silver Salmon came out. Right now there were a lot of Sockeye's, aka "Zombie Fish" because they go up stream and starve themselves to death. While they're dying, they can start to decay and still be alive. They also can lose there senses that keep them from swimming at the right depth, so sometimes you see them swimming along the surface.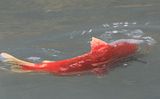 When our float ended, they shuttled us back, and we passed the bear site we'd seen earlier. This time we noticed cubs with the grizzly bear. They weren't visible when we had gone earlier.
When I got back to the car, I checked my phone and a message for Aurora Charters said the Deep Sea Fishing tour was cancelled tomorrow due to gale force winds. We were both disappointed because we'd never done that before. Since we didn't have to wake up early, we decided to drive to Homer. Some people said it was worth it, others said it wasn't worth it, so we decided we'd see for ourselves.
It was a nice drive to Homer, but long.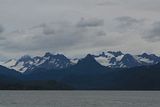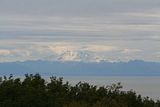 By the time we arrived, almost everything had closed. We went to the very end of the spit, and took pictures.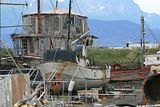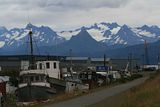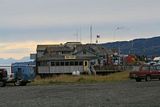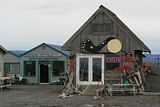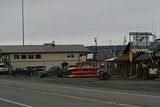 We stopped at the Alaska Islands & Ocean Visitor Center, which was closed, but they had a trail to hike, so we decided to check it out. We didn't walk that far, but we made it to the ocean and took some pictures before heading back out.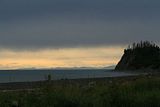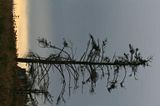 We stopped one last time at a viewing area up high, that we had passed right before coming into the Homer area. It's a nice viewing area of the whole spit.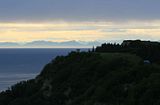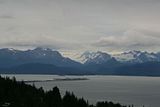 The sun was starting to go down while we left..of course that takes forever in Alaska, which is very nice. We continued all the way back to Soldotna, and then my mother wanted to stop at Dairy Queen, so we did. Then she wanted to stop to take a picture of the sunset, so I pulled off the road and we did.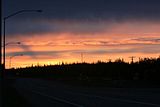 Not more to say about that, except that we drove back to the Sunrise Inn and
worked out what we'd do the next day, since we wouldn't be deep-sea fishing.