My goal for the day was to drive to Milwaukee to see the Milwaukee Art Museum, and then make it to Chicago. Though I did accomplish these goals, I had to nap on the way to the museum so there wasn't much time before closing to explore.
First, here are some pictures of strange buildings at what seemed a "theme" town in Wisconsin. I stopped here just to get lunch, and had no idea what I was in for. There was more strangeness that this but I couldn't get photo's of everything. Also, I noticed how wonderful people drove in Wisconsin! And I heard a few interesting accents which made me smile.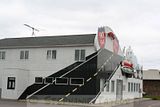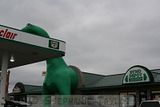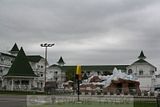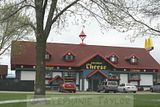 Milwaukee Art Museum actually allowed photographs to be taken. Yay! Start with a picture of the outside. This building was designed by Santiago Calatrava Valls (Calatrava).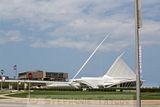 As well as a video of the museum changing shape. This is the best video I've found of it. There are videos in real time, but they move quite slowly.
Here are some shots of the interior.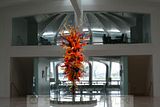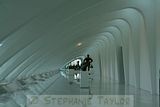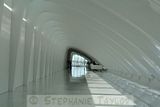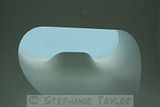 And some of the exhibits inside, in order:
1.
Ruin by Nam June Paik
2.
MMPI (Self-Portrait in Yellow) by Tony Oursler
3.
Red, Yellow, Blue II by Ellsworth Kelly
4. Lake George, Autumn, 1927 by Georgia O'Keefe
5.
Janitor by Duane Hanson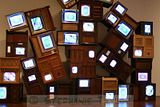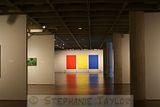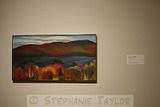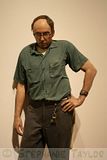 This was one of my favorite exhibits however.
Modernity circa 1952, Mirrored and Reflected Infinitely by Josiah McElheny. This just seems so sci-fi and futuristic to me.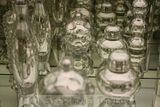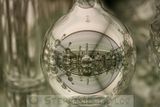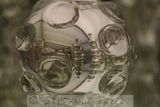 There were also things I couldn't take pictures of that were pretty cool. One of them was a matrix room..the lighting wasn't good enough for my camera without a tripod.
It looks brighter than this, but here's a video of the installation. You can pretty much walk any direction in the matrix as long as you don't accidentally hit the LED lights.
Artist: Erwin Redl - Piece: Matrix XV, 2007
There was another room similar to this one where I was asked to take off my shoes, put on some booties, and not to bring anything that could damage the glass inside (including my camera). Strangely, I did find this video, this person must have snuck it in.
Artist: Stanley Landsman - Piece: Walk-In Infinity Chamber (1968)
When the museum closed, I started towards Chicago. To avoid tolls, I took some back roads so it seemed to take forever.
I wasn't able to find cheap or free parking anywhere that seemed "safe", and not many people seemed to know how to drive, so I decided to actually leave the city.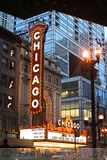 I don't know what it was, but I didn't feel that safe leaving my car and exploring in Chicago. I'll have to visit with someone if I ever want to see the city. I hear of course that it's nice. I guess I'm becoming less and less of a city person the more I get older. Go figure.