I started the day with my first true German breakfast before we all headed into the city. Our first stop was the Stuhlmann Brunnen (Stuhlmann Fountain). It was open monument day otherwise there would've been water coming out of the top. Instead we were able to go underneath the fountain and climb up to see the inner workings. It reminded me of outer space and was very pretty. A picture wouldn't have come out so well since it was dark, so I'll just show the outside.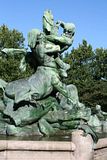 Before making it to the Elbe, we came across the Altona Rathaus.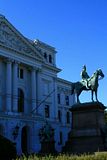 Once we made it to the Elbe, there was an interesting building which looked like a ship. I was told this is an office building named Docklands.
There was a sideways elevator which reminded me of Wonka.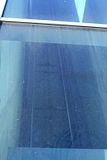 And a few more buildings near there which caught my eye.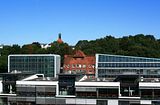 Then we headed to the ferry to bring us closer to the center of the city. This was a picture I took before boarding.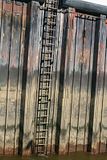 I made the mistake of going near the front of the boat before it started moving. As it started to move, people were sprayed with a pretty steady stream of water. Luckily my camera survived. I took some pictures from the boat.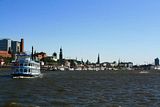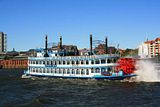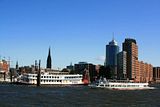 Landungsbrücken (Jetties)
We walked near HafenCity which is still under construction to meet up with my friend's brother in the Speicherstadt (warehouse city). I saw some signs along the way and decided to take some pictures of them. The last one shows the water level when it storms sometimes. Since it can get quite high, they've built platforms for pedestrians to save themselves from the Sturmflut (storm surge). Unfortunately in 1962, 340 people died from this.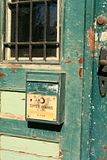 And here are some container houses for the construction workers I believe, with the ongoing construction behind.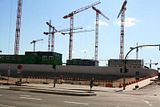 Nearing his brothers office I took a picture of the Speicherstadt Town hall.
When we were all hanging out with his brother, he mentioned bringing us to the roofs..woo!
I love rooftops!
Here is one side of the building. There are loading windows on both sides of the offices here so they can load from boats or from the street.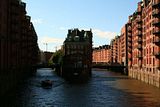 We went on a little walk and found a cool building which was shaped like a boat..yes another one! This one is called Chilehaus and was named for a ship line connecting Chile and Hamburg. Around this time we also witnessed an owner-less vehicle crash into another vehicle with a little girl in it. No owners of vehicles were around, it was quite strange! Never a dull moment in Hamburg apparently haha.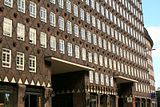 Then we went for a walk into a busy part of the city. I just had to take a picture of this!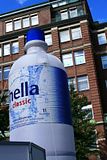 Near Lilienstraße and Gertrudenkirchhof.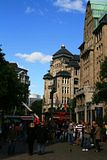 We had some food around here and so I decided to try a fish (Matjes) sandwich (salted/pickled young herring). A bit salty but I really enjoyed it. We walked a little further and there were a lot of things going on and someone speaking about a car accident I believe. There was also a street artist.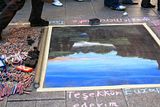 We walked over to St. Michaeliskirche (St. Michael's Church), and the group began to split up. We went inside but I didn't want to pay to go to the top! Here is a picture of the outside. The first picture is actually on the way to the church. I crossed the street and wanted to take a picture so I had to wait until the walk sign was on again to go back out to the street to take it. I felt sort of silly. :)
This is the G+J building (Gruner & Jahr).
Next we went to an underwater tunnel, St. Pauli Elbtunnel aka the Alter Elbtunnel (Old Elbe Tunnel).
This brought us to Steinwerder. Here are some pictures from the island.
The group separated again and me and my friend decided to go try to find some paddle boats. Unfortunately there were none and it was starting to get late so we headed back with a quick stop at the Hamburg Water Tower in the Sternschanzen Park. This has been renovated and is now the Mövenpick Hotel.