It looked gloomy in Kiel this morning and I had decided to buy a "länder" ticket to train to the surrounding areas. I had wanted to go to Sylt, an island to the west originally, but after deciding to stop at Flensburg so I could bike to Denmark, I realized I really didn't have time to do all of that. Too many places to see and not enough time, as always.
Some shots of Flensburg.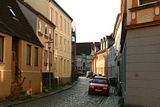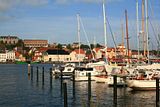 Some buildings around the waterfront mostly. In the fourth picture there was a little hole in the wall looking place called "American Table Dance". I had to take a picture haha.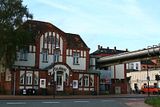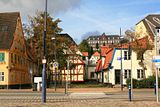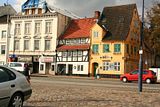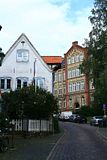 Flensburg Nordermarkt I think.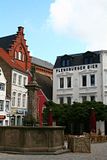 Nikolaikirche (St. Nikolai Church)
Flensburg was a pretty nice town but pretty hilly so not as fun to bike around as most other places I'd been to. Most of the cities I visited were relatively flat so you can bike all day without breaking a sweat.
It was time to find Denmark now, and of course I didn't have a map, so I guessed.
I guessed wrong.
So then I ended up back in Flensburg! haha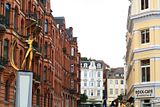 And then I found the right road and took a quick break near the beach.
Very quick break! I think it was becoming early afternoon and I knew I had to get going. A few miles later, I finally made it to my first country on my vacation which I could say I biked to. Yay!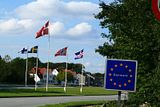 I was first in Kruså, but then turned left and biked to a smaller village which I think was called Smedeby. I took a picture of a church there, and then decided not to bike any further. It looked like there weren't any cities nearby and I didn't want to waste time biking for miles when I didn't know where I was or where anything was.
I biked back to Kruså and took a few more pictures before going to a tourist shop. I didn't realize this, but Denmark isn't a part of the European Union so they have a different currency (the Danish Krone). Luckily since this was a tourist shop on the border, they did accept both currencies. Was interesting to see the price in two currencies side by side.
And back into Germany!