My first and only true full day in Prague. The sky was a bit dark but it didn't really rain, maybe a few sprinkles.
I didn't take my bike out because I had decided I may want to do a walking tour. I found Prague to be not as bike friendly as other places I'd been.
I started out with a few maps and decided I'd head towards the center of the city on foot. I saw a road which looked to lead directly to where I wanted to go, so I started walking down that. There were no sidewalks at one point and I was walking on a narrow piece of curb with train tracks to my right. There were a few other people walking this way, so I didn't feel so bad attempting this.
After walking further down the road, I realized I had come to a dead end for pedestrians. The only option was to go down to the subway or head back. I decided I'd rather walk so that I could see more. I stopped to take a few pictures of the Art Nouveau train station. The first one reads "Prague, mother city" but it's hard to read in this picture.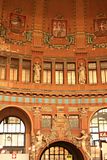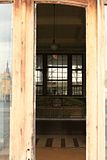 And then I walked pretty much around the train tracks so that I was on the opposite side.
I saw this and thought it was rather funny. The graphic seems to show a person with a container of some sort which catches the poo before it hits the ground. I immediately giggled imagining someone actually trying to do that. Check out his form!
Enough about that. :)
I continued walking until I finally made it to the center, and completely accidentally too, I had just started guessing.
Here is the Prašná brána (Powder Tower) to the left of the Obecni dum II (Municipal House).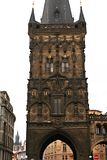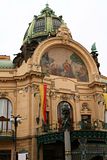 I continued past the tower down a narrow street toward the Staroměstské náměstí (Old Town Square).
A nearby restaurant that I seemed to like..I believe I took a similar picture of the same place the next day.
The Pražský orloj (Astronomical Clock) building.
Some more pictures around the Old Town Square.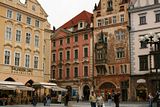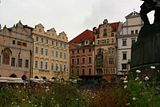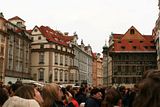 And a closeup of the clock. I arrived in time to see it in action.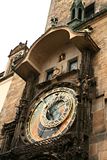 I then noticed someone standing with a red umbrella and remembered that I was thinking about taking a walking tour. The timing was perfect, and so I joined the tour of only me and a couple from Atlanta.
The first stop was an old fountain (built around 1560) in the Male Namesti (Lesser Square) near the Old Town Square.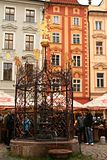 And the "Rott House". The V.J. Rott building was originally an ironmongers shop built in 1840, now the interior has been renovated and it's a glass shop with a hotel in the upper floors.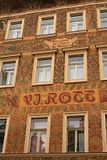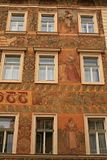 Next we headed toward Pražský hrad (Prague Castle).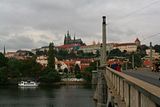 Aparthotel Residence Trinidad which was on the other side of the bridge.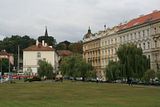 And then our tour guide bought us tickets for the tram to the top of the hill.
We made it in time to the changing of the guards. This isn't the main entrance however, that side has music and is a bigger ordeal apparently.
These were taken of and around Katedrála sv Vita (St. Vitus's Cathedral)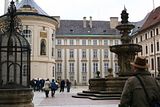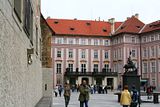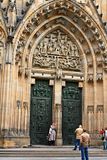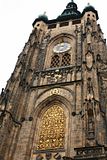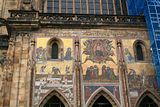 We would've gone in but the line was too long and the tour wasn't long enough I guess.
Instead we started to leave the castle and found part of an old church that's been preserved for many years. This was once where the Church of Our Lady stood. This was founded by Prince Borivoj I before 885, and is the second oldest church in Bohemia (oldest in Prague).
We walked around to the main gate of the castle and I took a few pictures overlooking the city before we made our way down a really cool stairway.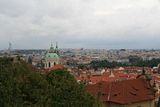 And of course the stairs..I thought this was one of the most beautiful places I'd seen on my trip. Note: In the second to last picture, that guy was singing Bob Dylan!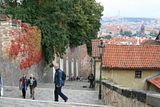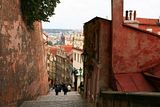 I took a picture of this building at the bottom of the stairs.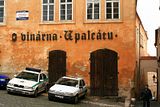 And then I took a picture of the recycling system in the Czech Republic which is similar to how Germany handles recycling on their streets. Germany also has rooms near some stores where you can place your bottles on a little conveyor belt for "pfand". After depositing your bottles you get a receipt which you use in the store as though it were a coupon for money off what you buy.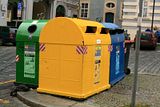 We were hungry so we decided to stop for lunch now. We ate a cafe..I found something on the menu interesting.
Maybe this is just for the English version of their menu, but really..a "Florida shake"? That doesn't even exist in the US I don't think haha. Horrible picture but at least that came out..that and I think I see "grog" listed..I really wish I had tried that now that I see it on the menu! "Can I have some grog? Yaaar."
Anyway..After lunch we were walking and I spotted the Lennon Wall before my tour guide mentioned it. I wasn't sure if she was going to bring us there or if it just happened to be along the way, but I took pictures quickly since they seemed to be on the move..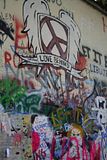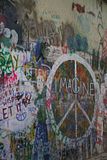 They didn't even want to stop long at the Lennon Wall, but we stopped here instead. I took a picture, but I wasn't all that interested for some reason.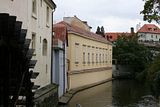 But then we made are way up to Charles Bridge which was cool.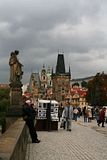 After crossing the Vltava River, we headed for the Josefov (Jewish Quarter). I saw this restaurant which looked cool called Restaurace u Stare Synogagy (Restaurant at the Old Synagogue). This is a strange angle of it, but it's the one in the back there. :)
Here is the Jewish Ceremonial Hall and the Stary zidovsky hrbitov (Old Jewish Cemetery).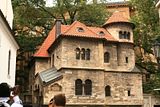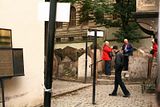 I took a closeup of the Restaurace u Stare Synogagy as well..I really liked this building.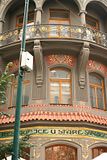 Our walking tour was almost over now and we headed back to the Old Town Square.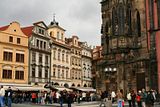 Here is where the tour ended, at Stavovske Divadlo (Estates Theatre).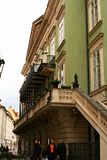 I walked away from the Old Town Square at this point and decided I'd try to find some other things to look at. I turned at the end of the road and took a picture just as a Humvee decided to drive by. Yep, they have them in Europe too. This particular one was the only one I saw and it was owned by a business at least. It is true that for the most part, the people of Europe drive much smaller vehicles than in the US. The streets are also more narrow in most parts. Of course they also have a wonderful public transportation system compared to the US..enough about that. :)
I turned and walked down the street taking a picture of Státní opera (State Opera) along the way.
After reaching the end of the road and not seeing anything exciting around, I realized I should get back to where people were. After getting slightly loss, the rain started so I found an internet cafe to hang in for a bit.
After leaving there, I went to the store and bought some things before returning to my hotel room.
Here are some of the things I purchased while in Prague.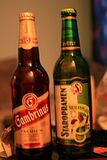 I really liked Czech beer for the most part. Of the two above, I liked the Staropramen the most. The Gambrinus bottle was cooler though.
I also bought Becherovka, an herbal liquor which is apparently a good souvenir to bring home..which I did. I still haven't opened it so I can't comment yet. I think the plan was to break it out for Halloween. :)