Topography of Terror and a portion of The Berlin Wall
Checkpoint Charlie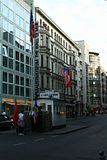 Random shots of the Fernsehturm (TV Tower).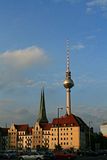 Spree River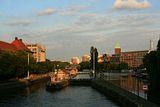 Berlin Altes Stadthaus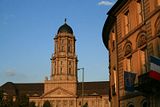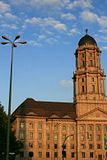 Berliner Dom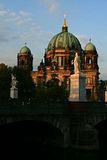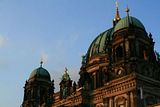 Closer to the TV tower and St. Marienkirche (St. Mary's Church).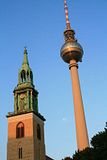 Berlin Rotes Rathaus (Berlin Red Townhall) and the Neptunbrunnen (Neptune Fountain).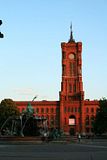 Again, the Neptunbrunnen (Neptune Fountain).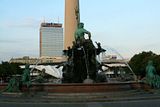 Alexander Platz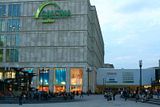 Brandenburger Tor (Brandenburg Gate)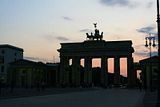 Siegessäule (Victory Column)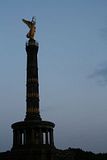 I became very lost trying to find my way home.. I decided to take a picture of some train tracks. I think I crossed these three times trying to find my way to the hotel.
And then I continued to get extremely lost and ended up at Siemens. I knew I was on the outskirts of the city by the looks of things, so I turned and headed back..still managing to stay lost for another hour or so.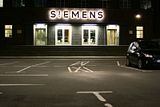 A few of my fingers were numb by the time I got home..too much gripping the handlebar I guess! I biked all day and all night.
I took some pictures of the hotel room. The bathrooms were all very similar. Not many places I went to had baths, most had showers built in this fashion.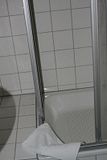 I found it strange that the soap was called "Tricky Ricky".
Small differences yes, but the toilets are flushed by big buttons on the back of the wall, not levers like in the USA. I don't know why I find these things interesting!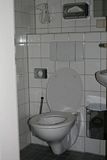 And the bedding in Germany is different than what I'm used to.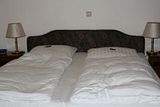 Square pillows, no top sheet, and the comforter always was folded in half like a sleeping bag. I wasn't sure if I was supposed to sleep inside that way or use it like a normal blanket. Oh well!