This was my last day in Hamburg before heading North to Kiel. It was a nice morning, but it soon started to cloud up. Before it looked like it was going to rain, I biked around Hamburg to take pictures of a few places I hadn't seen the day before.
Here is Binnenalster (Inner Alster Lake). There's so much water in Hamburg..An interesting fact I wasn't aware of is that there are so many canals in Hamburg (after arriving it was apparent that water was a central theme to the city), that they have over 2300 bridges. They have more than Amsterdam and Venice combined!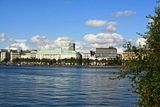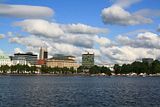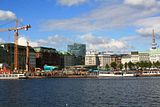 There were a lot of events going on as well. I saw a foot race, a boat race, and some people drumming on a corner. Not all at the same time. :)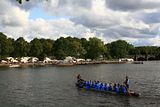 And then I headed over to the Hamburger Rathaus (Town Hall) where there was a Chinese festival going on.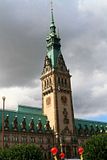 Then it was time to see the church that I'd been wanting to see since I saw it from afar. The St. Nikolaikirche (
St. Nikolai's Church
). It looks very gothic and gloomy since it has been through air raids.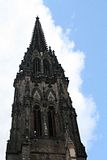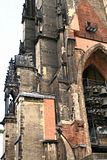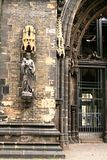 As I was walking around that area, I saw a gang of segway tourists..or what I believe may have been. Do they give tours on seways? It may be a good idea, but I can't help but laugh every time I see one of those things.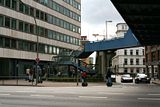 This "Omen" building was really cool.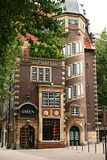 I don't really know what to make of this.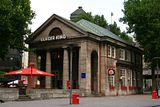 At this point the skies were looking really bad, so I decided it was best that I head to the station.
The train to Kiel didn't take too long. Of course since it's not that far from Hamburg, it was about to rain there too. I biked around quickly to take some pictures before the rain started.
I have no idea what this is about with the wavy sidewalks.
And here's a part of the Rathaus in Kiel. Also a fire was in a tube out front? There was an event here earlier in the day because people were taking things down so I didn't stay long or even set up a shot really.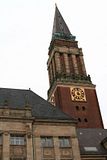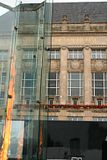 A shopping street in Kiel. I'm sure more people would've been out if it weren't about to rain..or maybe they're used to the rain up there by now!
I went to the Kiel Hauptbahnhof (Train Station) to wait for my friend to pick me up and call it a night.
Across the street was the Roncalli Circus.
I did get caught in the rain while biking from the east side of town (I think) to the Train Station. It was unfortunate that it was rainy or I would have more pictures. On a good note, this was the only day on my whole 3 week vacation I was actually caught in the rain. The weather was icky on a few other days, but nothing too bad.