I unfortunately didn't get to see much of Munich. I had planned to go to Dachau to see the concentration camp, but I didn't realize it was a whole day tour. Also, I wasn't going to take the subway to get into town until I got lost!
I did come across Castle Fürstenried since that was the area I was staying in during my visit. I only took a picture of one side of it though since I had limited time.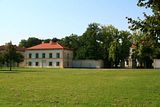 It took me a few hours of riding around to decide that it was a really bad idea to try to bike without the proper maps (I thought I printed the right ones). I biked by a station entrance and decided it'd be wise to take a train to Marienplatz.
When I arrived at Marienplatz, I headed up to the ground level. There are multiple levels of trains, the U-Bahn the S-Bahn, and many different tunnels for different lines..it was confusing at first. After visiting Marienplatz every single day while there, I finally became familiar with it.
The first building that caught my eye at Marienplatz was the Neues Rathaus (New Town Hall).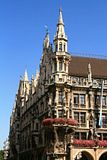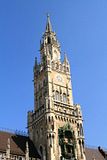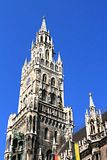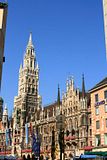 Here are pictures with Ludwig Beck Store and Mariensäule (Column of St. Mary). You can also see the towers of the Frauenkirche (Church of Our Lady) beyond the Column in the second photo.
Pictures of the Altes Rathaus (Old Town Hall).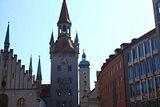 A fruit stand with Marienplatz in the background.
Near Marienplatz.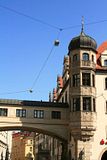 I could've taken a train and a bus to Dachau myself, but I decided to join a tour group so that I wouldn't have to deal with it. In retrospect I may have liked to have gone by myself so I didn't feel so rushed in certain places.
Before I go on, I just want to give a slight overview of Dachau because I feel it's necessary. If this subject matter bothers you, you may want to skip the remainder of this post. I'll try to keep it clean and I won't put any truly gruesome images up. I won't include pictures of certain artwork/recruitment posters which are on display for historic/educational/whatever purposes either. I personally find them interesting because it gives you a view into the mentality and the emotions involved. Pictures of the crematorium will follow however.
Click here
for a prisoners view of things as well as an interesting view on firearms.
So having noted that..
Dachau was the first concentration camp which all of the others were modeled after, as well as the longest running. This was not an extermination camp, though many were killed here. I will keep my descriptions short because information about Dachau is widely spread over the internet and through many other resources. There are many accounts of what happened at Dachau, but since I wasn't there and can't say for certain how it was, I won't bother giving opinions on that. Surely it wasn't good.
First, an aeral view of the camp on a display before entering.
Here is the brick path that the prisoners used, many on a daily basis to go to work (except on Sundays I've read).
One of my favorite pictures on display. This is when the prisoners at Dachau were freed. Sadly, even some of these survivors didn't live long after being rescued due to the harsh living environment.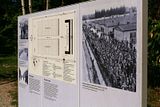 Here's a cropped version of the same picture..it can be found online of course.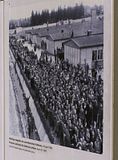 Entering Dachau the same way the prisoners entered, through a gate that reads, "Arbeit macht frei". This has been translated a few ways including in English, "Work makes one free." and in German "Work brings freedom".
These plaques were on both sides of the entry way before going through the gate. Two US troops liberated the prisoners at the same time without knowing the other troop was attempting the same rescue. They're both remembered here.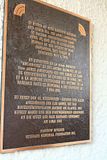 The role call area and the two remaining (restored) barracks.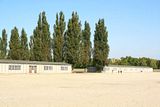 Here is a side by side comparison of the old and new maintenance building. The words are no longer on the roof, but you can see what it once read if you magnify the first photo and read the caption.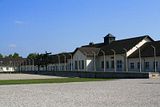 Here is a map of most of the concentration camps.
There was a ranking system for the prisoners, and they were treated differently based on what symbol they wore.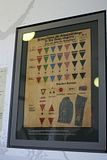 Here is a closeup of a memorial in front of the maintenance building.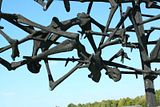 This is where the 30 other barracks once stood.
The prisoners were shot if they ventured onto the grass.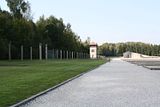 The Protestant Church of Reconciliation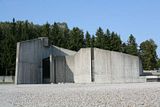 The first crematorium in Dachau.
The new crematorium.
The inside of the crematorium. In order, the waiting room and the disrobing room.
The gas chamber and death chamber.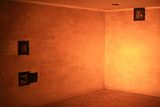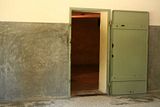 Incinerator room and execution site.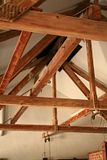 The Russian Orthodox Church.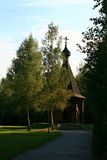 The Catholic Memorial.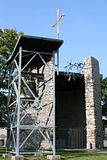 The Jewish Memorial.
Looking down the path which separated the two rows of barracks, and a top down view of what it looked like (on a display).
Now inside of the barracks which were recreated, a picture on display of the bunk beds, and then what they recreated for today. There's another set of beds to the left of these.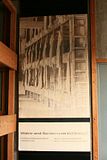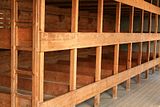 This picture creeps me out. I guess I just got a feeling of being a prisoner and looking out for just a moment. I could never put myself in those shoes and have any sense of knowing what it was actually like.
The dining area.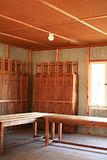 Bathing area and toilets.
Some memorials near the maintenance building.
And lastly, another picture which freaks me out. Maybe I got the sense that I was on the ground, which I imagine wasn't a good place to be. :(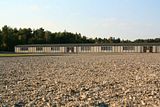 I recommend reading
this
. Both stories on here are great for different reasons..one is looking at the present and future, the other at the past. I think this is a good ending for this post.