I extended my stay in Munich by one night because this was the opening day of Oktoberfest and I didn't want to miss it. It was an interesting contrast from the day before and was very necessary. I absolutely didn't see enough of Munich and will definitely visit another time.
The first place we went was Munich Frauenkirche (Cathedral of Our Blessed Lady), which is the largest church in Munich.
At the entrance to the church is a footprint in the stone. It's said that the architect made a deal with the devil. If the architect didn't build any windows, the devil would help him build the church. I don't quite understand this one, because if the devil helped build the church, he'd know that the architect did in fact build windows. Anyway..the architect brings the devil to the spot where no windows can be seen, the devil finds out he's been tricked and so he stomps his foot in anger, leaving his imprint which can still be seen today. My friend told me that for some reason it's always windy near the church, and as we walked towards it, it did become breezy. Maybe there's a scientific reason for this, but I just thought I'd add that. :) Oh, and that's my friend who claims his foot is the same size as the imprint..I think it may be slightly bigger myself.
A few pictures inside of the church.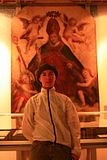 After leaving there, we grabbed some breakfast, stopped by a store real quick, and headed to Oktoberfest.
Upon entering, immediately to the left was the Bavaria Statue.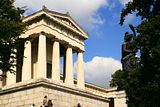 We wandered around and I took pictures until we found a roped off area.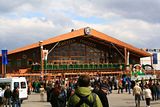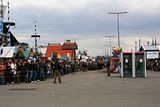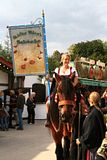 Here are some horse-drawn carriages, and "rhythmic whip-cracking" which was pretty cool.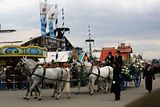 And then around noon, the cannons went off, the ropes came down, and the mayor (in a tent somewhere) tapped the first keg so the beer could finally be served.
A few more random pictures.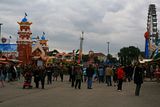 I have no idea who these people were, and I know they weren't posing for me, but I couldn't help but snap a photo real quick.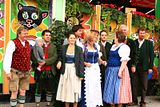 We were looking at the hats but they were quite expensive. I tried two of them on but the lady wouldn't let us take a picture with one on.
Some people around the table..and around the time I started drinking.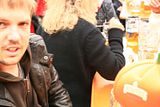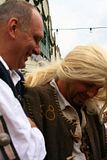 I put my camera away for practically the rest of the night, or I forgot about it. My mind was only on one thing, or two, or three..the bathroom lines were huge, the beer kept coming.. I snapped a few pictures with my cap still on, woops, and then I took a few pictures of random things.. one of them was a flier of some sort that I found under the table. I apparently dropped something under there at some point. (Note: Wies'n is where Oktoberfest is held and I believe some of the locals just call it this).
I guess at least I know what to expect for Oktoberfest next time I go, but I think I'm going to actually pay attention to how much I drink! I don't know who was giving them to me, but I never had an empty glass for the whole day and night.