This seems to be becoming a regular route of mine, when I have the time for it. Lucky for me, there's been great weather for my holiday weekend, so the first thing I do when I leave my house, is head for "the rocks" in the Eastern Prom.
Not the best picture of the rocks, but that's the view from the rocks! The last few days I've been doing some book editing down on those rocks. I was overjoyed to find such a nice place to chill and edit in Portland. I guess I'm not fond of many people around, but I love the outdoors, and that spot seems to be the best I've found that meet those criteria. Listening to the ocean has it's perks too.

So I biked the remainder of the Eastern Prom Trail towards the Back Cove Trail. I had done a similar route just yesterday, and had brought my "backup" camera to take pictures, but unfortunately I forgot to put the memory card in. Woops. I biked by this area of wall, and I knew I had to bike it again the next day so that I could take pictures of it.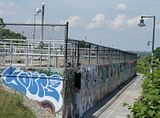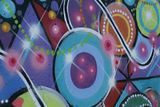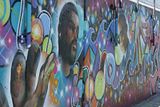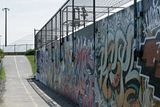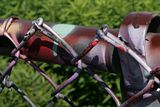 Usually from there, I go up Washington to Congress, because it's an easier ride (no steep hills), but lately I've wanted to spend some time at Deering Oaks Park to take pictures. Unfortunately, it felt like a Sunday to me, so I totally forgot the Farmers Market was at the park. They covered a little bit of an area that I was interested in shooting, so I guess I'll have to go back another day. I still found a few things to take pictures of.